Archive - Jul 2012
July 27th
Sunday 9th September 2012 - 11:00am - 3:00pm: to publicise the Herne Hill Music Festival, to celebrate the 150th anniversary of Herne Hill Station, and to entertain visitors at the Herne Hill Sunday Market, there'll be a FREE continuous supply of entertaining music provided by a range of wind and folk ensemble. 3 ensembles lined up for certain - The Ingham Swing Ensemble, London Consorts of Winds, and The Hobos (folk trio). Two more ensembles still TBC; plus Pullens has joined Brockwell Arts and JazzOnTheHill in sponsorship. Hooray!
July 26th
Thurs 26 July sees the Olympic torch depart from Camden at 6.48am and reach Lambeth at 12.10pm at the Denmark Hill/Coldharbour Lane junction from Southwark and travel down: Coldharbour Lane • Acre Lane (passing Windrush Square) • Clapham Park Road • Clapham High Street • Long Road • Cedars Road • Queenstown Road •
If you go out for a butcher's, be aware that the torchbearer will run with a special team from the Metropolitan Police Service - the Torch Security Team. They run in a bubble around the Torchbearer, no one should try and enter into that bubble whilst the convoy is on the move. This is for their own safety as much as the torchbearer's as the relay is a moving convoy of motor vehicles. It's the job of the Torch Security Team to stop people from trying to get into the bubble around the Torchbearer! Spectators are advised to use public transport and to leave their cars at home if possible. Some bus routes may be diverted, so expect delays!
Login
or
register
to post comments |
Tags:
Games
,
lambeth
,
London 2012
,
Olympic torch
,
route
,
traffic and transport
July 24th
OK, not quite Herne Hill, but near enough and worth knowing about for a unique link! The Bigger Picture is a new film club based in E. Dulwich. TBP next screens 'Angels & Insects' (1995) on Thurs 9 Aug @ Upstairs at East Dulwich Tavern, 1 Lordship Lane. The film stars Mark Rylance and Kristin Scott Thomas. But unique is a topical tie-in with the Dulwich Picture Gallery - Philip Haas, the director of 'Angels & Insects' has created a brilliant set of four monumental fibreglass sculptures for his 'The Four Seasons' installation in the gallery's gardens! The first ever public display of all four works following their completion! Each sculpture is 15-foot-high, inspired by Giuseppe Arcimboldo's Renaissance paintings of the four seasons, comprising Spring, Summer, Autumn and Winter.
TBP website: http://www.thebiggerpic.co.uk/ DPG website: http://www.dulwichpicturegallery.org.uk/
Login
or
register
to post comments |
Tags:
Angels & Insects
,
Dulwich Picture Gallery
,
East Dulwich
,
film club
,
Lordship Lane
,
Philip Haas
,
The Bigger Picture
The 'Breakfast Run of Hope' happening in Brockwell Park in September was 'cooked up' by Catherine Weight, a South African living in London who combines her twin passions - baking and running - for an event that's "appealing and fun while raising money for a great cause". Catherine began by baking for friends' birthdays and other special occasions in return for donations to Starfish. Then, wanting to reach out to a larger group of donors than expat South African friends, she went on to organise a half-marathon and raise money for a place in the London Marathon for Starfish.
The Starfish Breakfast Run 2012 hopes to raise around £10,000 for children in South Africa.
See more info at: http://www.starfishcharity.org/general-content.aspx?id_Content=907
Login
or
register
to post comments |
Tags:
10K
,
Be a Star
,
Brockwell Park
,
fun run
,
fund raiser
,
marathon
,
Starfish
July 22nd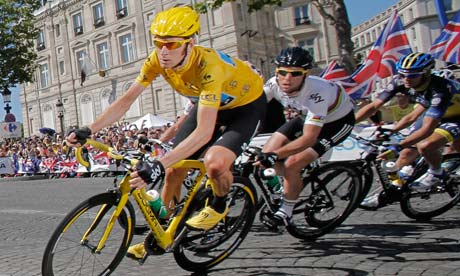 Bradley Wiggins in the leaders yellow jersey has today become the first British cyclist to win the Tour de France in its 109 year history. He began his amazing career at the Herne Hill Velodrome, the last remaining venue from the 1948 Olympic games. He provides his support to the Save the Velodrome campaign and can be seen at some of its events during the year. Read further information about the cycling star here.
Login
or
register
to post comments |
Tags:
Bradley Wiggins wins the Tour De France
7:45pm to 9pm Saturday 4th August 2012.
Join Embrace Cooperation Ltd and Friends of Carnegie Library on a gentle stroll around Ruskin Park. Come along and learn about these fascinating creatures, and find out how many of the seventeen different species living in Britain we will find. Also learn where, when and how to watch and identify these flying mammals from a bat expert.
A few bat detectors will be available for people to use but there will not be enough for everyone so if you do have your own please bring it.
All participants will be asked to complete a feedback form after this nature walk.
The walk is limited to 30 participants maximum.
For more information please phone the Embrace office 02072749450.
If you're not aware what some bats can sound like, click on the player below to hear a file. You might be surprised to suddenly think you've heard some in your garden if there are large trees about!
Audio files:
The sounds of bats just after dusk!
Login
or
register
to post comments |
Tags:
bats
,
Carnegie Library
,
Embrace Cooperation
,
Lost Stories of Ruskin Park Project
,
Ruskin park
,
talk
,
Walk
July 18th
The Oxjam Brixton Takeover is pleased to announce its official launch party for 2012. The Oxjam Takeover is a multi-venue, one-day music festival coming to Brixton in October, all in aid of Oxfam. Fresh from a sold-out Sounds Familiar music quiz at The Dogstar, Oxjam Brixton is ready to raise the temperature. We are hosting a sun dance on the rooftop terrace of Brixton Clubhouse on 20th July. Come join us and 'Beat The Summer Blues'!
3 comments
&nbsp|&nbsp
Login
or
register
to post comments
Save our Thameslink service. When the government is spending billions building Crossrail, south London is about to lose its very own cross London route on the Sutton Wimbledon loop line which runs through Loughborough Junction & Herne Hill. LJAG were out today leafletting passengers at Loughborough Junction station and then joined a protest at Blackfriars station where it is proposed that trains on the Sutton Wimbledon loop will stop. Let's stop this nonsense. Respond towww.dft.gov.uk/consultations/dft-2012-23 on the new franchise arrangements by 23 August 2012.
Login
or
register
to post comments |
Tags:
Department for Transport
,
LJAG
,
Thameslink
,
Wimbledon Loop
July 17th
To organisations, groups and individuals working with young people,
The Youth Mayor Fund 2012 is now open for applications, and I am asking for your help in promoting this to any young people you might be working with.
Login
or
register
to post comments
The popular Cambria Choir are about to take their annual August holiday, so are singing in their home, the Cambria pub, one last time this Monday, 23rd July.
As ever, it's free of charge, in the lovely chandeliered surroundings of the Cambria, 40 Kemerton Road. That's just off Herne Hill Road, by St. Saviours school.
The choir are taking new members in September, so if you fancied meeting new people and singing some lovely arrangements ranging from the Spiritual to 70s rock, come along on Monday to see what we're about!
To book a table at the Cambria and ensure a good view, call 0207 737 3676.
User Login / Registration